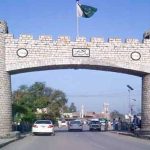 KARACHI: Chief Justice of Pakistan (CJP), Justice Mian Saqib Nisar on Sunday has inaugurated Water Treatment Plant III in Karachi.
Speaking on the occasion, CJP said that the people of Gilgit were happy on the construction of Diamer-Bhasha Dam, adding that the judges are also participating in this cause.
The CJP has initiated a donation program for the construction of two dams in the country.