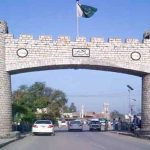 LAHORE: Chief Justice of Pakistan (CJP) Justice Mian Saqib Nisar took suo moto notice of the acquittal of Shah Hussain, convicted for stabbing Khadija Siddiqui several times.
The CJP will hear the case on June 10 at the Supreme Court's Lahore registry and has summoned all the record of the case from the Lahore High Court (LHC).
On Monday, the Lahore High Court's (LHC) Justice Ahmed Naeem had acquitted Hussain, giving him benefit of doubt.