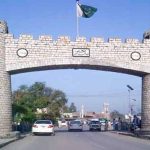 QUETTA: Chief Justice of Pakistan Saqib Nisar on Tuesday announced to bring reforms in the judiciary and said that that the laws pertaining to judiciary have become obsolete.
During his visit to Quetta Katcheri on Tuesday, the chief justice said that he has initiated work on several reforms and pray from Allah to succeed him in this process. "I want volunteers who will join me in this cause," he said adding that our lawmakers do not have time for lawmaking while the judiciary is overburdened with cases. "30 years have passed but the cases are still pending in courts," he said adding that the lawyers and judges should cooperate to end this backlog.
He said that they do not have the powers for the lawmaking and those who had the powers do not have the time to carry it out.
The CJP said that he feel ashamed over the killings of Hazara community. "When August 8 attack on lawyers occurred I reached Quetta after that and witnessed the courage of the people of the province."He said that ensuring basic rights for the masses is their top priority and will play his role in ensuring provision of basic rights to the people of Balochistan.
He also directed the chief secretary Balochistan to resolve the just issues of Balochistan lawyers within 20 days.