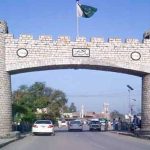 CHITRAL: Chief Justice of Pakistan Justice Saqib Nisar says the government should facilitate the public in getting basic necessities of life.
Addressing the District Bar Association in Chitral this afternoon, he said the country is heavily in debt and the government should take effective steps to retire these loans.
Justice Saqib Nisar said construction of dams is the dire need of the hour.
He urged the bar members to contribute for the construction of dams.
Earlier, the Chief Justice visited District Headquarters Hospital Chitral and inquired about the health of the patients.