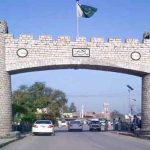 LAHORE: Chief Justice of Pakistan (CJP) Mian Saqib Nisar on Friday has shared a clear message that there is no place of judicial martial law in the Constitution.
During his address in a Pakistan Day ceremony in Lahore, CJP said country's fate changes with the capable leaders. It is necessary for judges to provide justice equally, he added.
He said, "Freedom is a blessing and we are lucky by the grace of Almighty Allah that we have an independent land. We should respect our motherland more than our mothers."
Mian Saqib Nisar said only standard and quality leadership can protect country's independence.
Talking on the education related issues, he said that the countries that are underdeveloped lack in educational sector.
CJP vows to protect freedom of Pakistan at any cost. He further clarified that we will not accept any unconstitutional move.