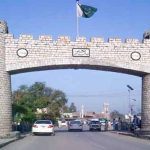 ISLAMABAD: Chief Justice of Pakistan Justice Saqib Nisar arrived returned Pakistan after completing a week-long Dam fund campaign in the United Kingdom.
Speaking to media before leaving the UK, the Chief Justice said that the entire nation would protect the dam fund raising drive that he has started.
"I will always remember the love shown by overseas Pakistanis", he added.
Let it be known that on November 21, Justice Nisar left for UK to attend ceremonies regarding the dam fund drive in London, Birmingham and Manchester.