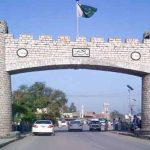 ISLAMABAD: The Supreme Court on Monday suspended a notification pertaining to the transfer of Inspector General Police Islamabad, Lt (Retd.) Jan Muhammad and sought complete report from secretary establishment till tomorrow.
While, hearing the suo moto notice taken by Chief Justice of Pakistan Mian Saqib Nisar, the apex court has ordered the federal government to submit its reply on Wednesday.
Attorney General informed the court that the police chief was transferred following the verbal orders issued by Prime Minister Imran Khan.
Mian Saqib Nisar remarked that the political interference in police would not be tolerated, wondering whether the policeman was transferred on an issue regarding the son of a minister. "I heard that Islamabad IG was transferred over not picking phone of a minister. Secretary interior has to reveal real reasons behind transfer of Jan Mohammad", remarked CJP.
"It also came to light that matter of phone call is linked to son of a minister. We will not allow anyone to weaken state-institutions. Writ of law would be established at all cost", remarked CJP.
Federal Minister for Science and Technology Azam Khan Swati stated he had not committed any wrongdoing in case pertaining to transfer of Islamabad IG Jan Mohammad. Swati stated that he would appear before the SC to present his stance. He added, "I hope CJP Justice Saqib Nisar will fathom my stance on the matter."
On Sunday, it was reported on mainstream media that the IGP Islamabad Jan Muhammad was transfered allegedly for refusing to attend the call of federal minister for science and technology, Azam Sawati.
However, the Interior ministry said Swati had nothing to do with the transfer of IGP rather the summary of his removal was on PM's table for a couple of weeks.
Moreover, the Twitter handle of the federal government designed to bust fake news stated that this was a fake news and such reports must not come in media without verification.
It is worth mentioning here that earlier IG Punjab police Tahir Khan was also removed from his post despite serving for merely five weeks.