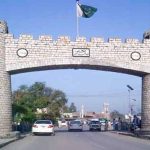 LAHORE: The Chief Justice of Pakistan, Justice Mian Saqib Nisar visited the National Hospital in Lahore on Sunday.
He went to the various wards of the hospital and inspected the standard of medication.
He checked the quality of equipment, and medicine and reviewed the other facilities being provided to the patients.
The chief justice met the patients and asked them about the quality of treatment and they expressed their grievances to him.
On the occasion, he sought a report from the Punjab Healthcare Commission (PHC) about the plight of patients at the National Hospital, Lahore.
He also directed the hospital management to provide best medical facilities to the patients and care good care of them.