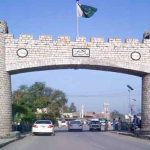 ISLAMABAD: Chief Justice of Pakistan (CJP) Mian Saqib Nisar on Monday took notice of the removal of Inspector General of Islamabad police Jan Muhammad.
The chief justice directed the interior secretary and the attorney general to appear before the court to explain as to why the IG was transferred.
He remarked the capital's top cop was removed for political reasons and vowed that he would not let anybody put any political pressure and weaken state institutions this way.
The grade-20 officer of the Police Services of Pakistan (PSP) was removed and directed to report to the Establishment Division, according to a notification issued by the division on Saturday.
Some media reports said the IG was removed over his failure to answer a federal minister's phone calls, however, the government has outright denied these reports.
According to a report, the Islamabad IG was removed after he refused to register a case at the request of Federal Minister for Science and Technology Azam Khan Swati's son.
The minister kept calling the top cop but he didn't answer.