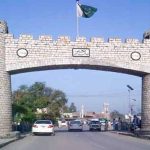 ISLAMABAD: Chief Justice of Pakistan Justice Saqib Nisar on Wednesday took a notice of the murder of journalist Zeeshan Butt in Sambrial tehsil of Sialkot and sought a report from Punjab inspector general of police (IGP) within 24 hours.
The Chief Justice of Pakistan took the action after an application was filed by the Press Association of Pakistan.It is pertinent to mention here that Journalist, Zeeshan Butt, was threatened by UC chairman, Imran Aslam, who belongs to Pakistan Muslim League-Nawaz (PML-N) in Sialkot.
The journalist called up chairperson district council to inform him about the threat; however, he was gunned down while he was still briefing him about the PML-N man's threats.