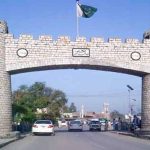 ISLAMABAD: Chief Justice of Pakistan Saqib Nisar took suo moto notice of children's death in Thar, Sindh.
Justice Saqib Nisar has ordered Chief Secretary Sindh to present report on the issue within 36 hours.
The notice was taken on media reports. Last week reports of death of five children due to malnutrition and different diseases emerged on the media.
Earlier, it was reported that five more children had died in Tharparkar due to malnutrition, bringing the fatality toll to 100.
Mithi's Civil Hospital doctor, Dr Sahib Dino said that four children, including a three-day-old Faizan, a minor girl Shanti, 11-month-old Kainat and five-day-old Babu passed away in the hospital during treatment.
Another child was also reported to have died in his village while receiving treatment from the local doctors.
Health officials accepted a death toll of 14 during the month of April and overall toll of 100 during 2017.
The health experts said that poor provision of health facilities is worsening the problems caused by the drought.
"The facilities are ill-equipped, both in terms of doctors and equipment, to provide quality healthcare," they said.