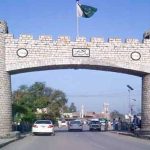 ISLAMABAD: Chief Justice of Pakistan (CJP), Justice Saqib Nisar took suo motu notice of the targeted killings of the Hazara community's members in Quetta.
Conducting hearing on the notice Wednesday, the CJP remarked that their killers were openly holding rallies.
He observed that Hazaras do not get admission in universities, cannot go to schools and hospitals and asked if they are not citizens of Pakistan.
The chief justice stated that he will hear the case on May 11 in Quetta.
The Supreme Court also summoned a report on the matter from the Balochistan government, Levies, police and Interior Ministry.
At least six people have been killed and three wounded in different incidents of targeted killings in Quetta over the last few days.