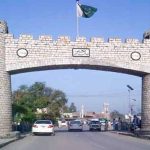 PESHAWAR: The death toll has risen to three as a result of clash between two rival groups at a marriage hall in Gulbahar area of Peshawar.
As per details, members of Malik Saleem and Malik Altaf group exchanged fire in a wedding hall in the jurisdiction of Hashtnagri Police Stattion.
As a result, two people were killed on the spot while six others sustained injuries out of whom one has succumbed to injuries in Lady Reading Hospial (LRH).
Following the clash, Malik Saleem group registered FIR against Malik Altaf and his sons.
Similarly, Malik Altaf registered FIR against Malik Saleem and his accomplices.