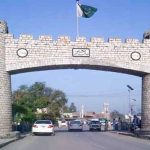 ISLAMABAD: Tree plantation campaign under the special programme of Prime Minister Imran Khan "Clean and Green" has been started across the Pakistan on Sunday.
Foreign Minister Shah Mahmood Qureshi, Special Assistant to PM on Information Firdous Ashiq Awan, chief ministers of Punjab, Sindh and governor Balochistan have inaugurated the tree plantation campaign under "Plant for Pakistan".
The foreign minister has planted a sapling at main lawn of Ministry of Foreign Affairs in Islamabad as part of 'Clean and Green' drive of the government.
On the occasion, the minister held special prayer for security of Pakistan and innocent Muslims of Occupied Kashmir.
Firdous Ashiq Awan also launched the tree plantation campaign by planting a tree in the PTV headquarters. She said that the incumbent government completed his target for planting 10 billion trees within five years.
On the other hand, Punjab Chief Minister Sardar Usman Buzdar has inaugurated the tree plantation campaign. He said that saplings are being planted to achieve the target of increasing forest in the country. "We are determined in making Pakistan green," he added.
The CM further said that a policy has been prepared regarding ban on plastic bag use. He mentioned that plant for Pakistan was a movement, being run under Prime Minister Imran Khan to turn the land of Pakistan green.
Earlier, PM Imran Khan launched "Clean and Green Pakistan" initiative at a ceremony. Addressing to the inaugural event, he said a country-wide campaign for cleanliness would be launched Saturday next and this would be sustained over the next five years.
The president, the governors, the ministers and the chief ministers would participate in ceremonies aimed at making Pakistan clean and green. He also said that the plan involves a holistic approached aimed at taking care of air, ground and water pollution.
The prime minister said that the initiative would have four aspects. He urged members of the civil society to complement efforts of the government in creating necessary awareness about sanitation and environmental issues.