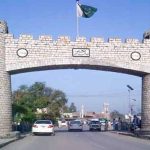 LAHORE: Cleric Mufti Aziz-ur-Rehman, who was arrested for molesting his seminary student, confessed to the crime on Monday.
In his confessional statement, the cleric said, "The video of molestation is of me; I made a mistake and I'm embarrassed about it."
He further stated that the "student videotaped the occurrence out of my knowledge," adding, "When I found out [about the video] I told him to not disseminate it."
"He made the video viral despite the fact I had warned him about it. After it went viral, my sons called him out and threatened him [of consequences]," the cleric added.
On Sunday, Punjab police arrested the cleric for molesting his student. The 70-year-old was booked after a video of him sexually assaulting the student went viral on social media platforms.
After several botched attempts, Lahore police arrested Mufti Aziz, who was booked for molesting the seminary student.