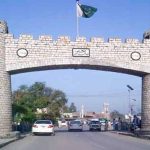 A cleric from Nowshera district, who threatened the world's youngest Nobel Peace Prize laureate Malala Yousafzai with a suicide attack during a speech, has been arrested by Lakki Marwat police.
Complainant SHO Wasim Sajjad, in an FIR registered against the cleric at Pizo police station in Lakki Marwat, stated that Mufti Sardar Ali Haqqani delivered a speech at Speen Jumat, Wahid Ghari in Peshawar.
He said that the video of the speech was widely circulated on social media in which he could be seen standing armed on the stage and asking people to take the law into their own hands and carry out a suicide attack on Malala Yousafzai.
Police officials told the media that the cleric was present in Pizo when he was arrested and booked for inciting hatred.
They said that the cleric earlier probably escaped to his hometown Nowshera to avoid the arrest when the video went viral and was widely condemned.