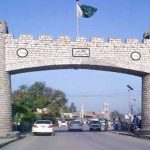 PESHAWAR: Khyber Pakhtunkhwa Chief Minister Mahmood Khan on Thursday directed the Elementary and Secondary Education Department to include a chapter on Seerat-un-Nabi (SAW) in the syllabus for the character building of the students.
The orders were issued by the chief minister while chairing a meeting of the department, said a press release issued by the provincial government.
CM Mahmood hoped that the introduction of the chapter would prove to be a milestone towards realising the vision of Prime Minister Imran Khan for the establishment of a welfare state on the pattern of Riasat-e- Madina.
The participants were told that the appointment orders for 1,000 teachers have been issued while the remaining orders will be issued before March 31. "The recruitment has been initiated for additional 12,156 PST posts which will be completed before the 30th June, this year," the statement said.
Similarly, 4500 new posts have been created in the schools of the merged districts whereas the creation of 530 additional posts is in process, reported The News. The recruitment will be completed before 30 June.
According to the publication, the CM also expressed dissatisfaction at the performance of some district education officers. He directed the secretary to initiate legal action against those officers who were not performing well.
CM Mahmood also directed the installation of surveillance cameras in all examination Halls.
The meeting was informed that over 1000 teachers have been suspended over absenteeism and the Independent Monitoring Unit have been extended to 90 per cent schools of the merged districts.