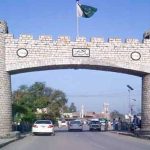 PESHAWAR: The Khyber Pukhtunkhwa Chief Minister Pervez Khattak on Wednesday appeared before the National Accountability Bureau (NAB) investigation team in illegal lease of a huge tract of KP forest department land in Malam Jabba and misuse of government owned helicopter by PTI chief Imran Khan.
Pervez Khattak was questioned over misuse of government helicopter and irregularities found in leasing out of Malam Jabba's expensive land. In his statement CM Khattak admitted irregularities in leasing of Malam Jabba land. He revealed that such kind of information first time revealed before him as he had never indulged any kind of corruption and will not allow anyone to use unfair means.
On the questioning over misuse of helicopter, Khattak requested for written reply, NAB team approved his request and allow him to record statement in written form.
Earlier in January, it emerged that the KP government had illegally leased 275 acres of land in Malam Jabba, a tourist attraction in Swat district, which belonged to the provincial forest department.
NAB Chairman Justice (retd) Javed Iqbal had ordered a probe into the allegations of illegal lease of vast tract.
The provincial government was to lease a mere 17-acre patch, i.e. 5 acres for construction of a hotel and 12 acres for a chairlift project, for 15 years.
However, the KP government instead allegedly gave 275-acre land to a private company on lease for 33 years, violating the rules and regulations.
The vast tract was reportedly leased despite objections by the KP Ehtesab Commission and CM's inspection team.
However, the KP Tourism Corporation had denied the lease of said land.