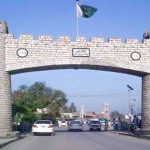 PESHAWAR: Chief Minister of Khyber Pakhtunkhwa, Pervez Khattak has approved draft on Thursday banning use of plastic bags.
The Chief Minister of Khyber Pakhtunkhwa has approved draft of the provincial environment committee today that bans the use of all kinds of plastic bags across the province.
The bill is now to be moved in the National Assembly for legislation. Minister for Industries Shaukat Yousafzai said that the manufacturing of plastic bags would be banned after three months.
KP government has been pushing for the ban since 2015.