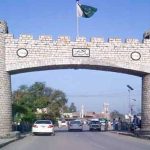 PESHAWAR: Work on Peshawar Rapid Bus Transit System has formally been started after Chief Minister Pervez Khattak performed groundbreaking of the project.
The project will be completed at a cost of fifty seven billion rupees in six months.
The twenty six km long Rapid Bus Transit System will begin from Chamkani and terminate at Hayatabad.
Three hundred buses will be arranged for the system. Five hundred thousand commuters will travel in the buses daily.
It will help solve traffic problems in Peshawar.