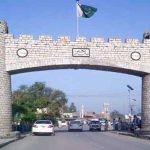 PESHAWAR: Chief Minister Khyber Pakhtunkhwa Pervez Khattak on Wednesday took notice of the spread of Dengue virus in Peshawar and directed the health department to initiate steps on emergency basis for the prevention and against the spread of Dengue virus in Peshawar.
He also directed the health department for proper look after of the patient affected by the virus, provide them efficient healthcare and properly monitor the ground situation in this regard. He also directed to hold follow up meetings to fully understand the situation and proper action plan could be launched to control Dengue virus.
The Chief Minister advised the people to help the government in the cleanliness drive. He also directed for accelerated awareness raising of the people against the Dengue virus.