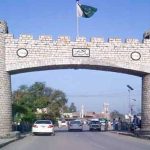 PESHAWAR: Chief Minister Khyber Pakhtunkhwa Pervez Khattak urged upon the people to keep unity and harmony among their rank and said that the Karbala tragedy envisaged a great lesson for the humanity, especially for Muslims, to observe tolerance and preach unity.
In his message on the Asshura day, the Chief Minister said that Karbala was in fact a war between the right and wrong, wherein the supreme sacrifice rendered by Hazrat Imam Hussain (RA) for the right cause and glory of Islam would be remembered for good.
The Chief Minister KP Pervez Khattak said that the Karbala incident taught us to demonstrate the spirit of love with humanity, support the
right and reject the wrong. "Following these principles could not only keep us united and revive the glory of Muslims, but could also lay solid foundation for durable peace in Pakistan and the world at large," he added.
The Chief Minister appealed to the nation to follow in the footprints of Imam Hussain (RA) and observe the Ashura day in a manner to unite the Muslim Ummah. He said that the teachings of the Holy Prophet Muhammad (PBUH) and Imam Hussain (RA) guided us to forging unity for success and prosperity of the entire mankind.
He said that it was need of the hour for Muslims to maintain mutual harmony and fraternity. He urged upon the people, especially Ulema, to cooperate with the government for maintenance of peace.