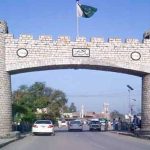 PESHAWAR: Chief Minister Khyber Pakhtunkhwa Pervez Khattak on Wednesday expressed commitment to hold Raiwind march at all cost and vowed to continue protest against corrupt rulers till across the board accountability of the looters.
Addressing workers convention in Peshawar, Pervez Khattak resolved to hold Raiwing march for probe into the Panama Leaks. He said that Pakistan Tehrik-e-Insaf (PTI) workers from across the province will participate in Raiwind march in large number. He urged party workers to start campaign for participation in the anti-corruption rally to Raiwing the resident of Prime Minister Nawaz Sharif whose children name are in the Panama Papers for establishing illegal offshore companies.
Pervez Khattak urged party workers to start preparation for Raiwing march and gather in Raiwind on September 29.
CM Khattak said that the country is faced with crises due to corrupt rulers. He said that instead of merit policy, the policy of nepotism and corruption is implemented in the country.