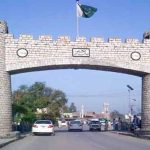 PESHAWAR: Chief Minister Khyber Pakhtunkhwa, Mahmood Khan has directed for taking effective measures to maintain peaceful atmosphere and harmony during Muharam ul Haram.
Talking to Inspector General of Khyber Pakhtunkhwa Police Salahuddin Khan Mehsud and Chief Secretary Naveed Kamran Baloch in Peshawar on Tuesday, he directed law enforcing agencies to be more vigilant during Muharram.
He also directed for close liaison between the administration and law enforcing agencies.
Meanwhile, talking to Provincial Ministers Shahram Khan Tarakai and Muhammad Atif Khan, the Chief Minister said providing relief to the poor people is among the priorities of the government.