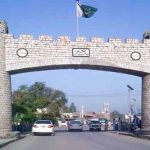 KARACHI: Chief Minister of Sindh Syed Murad Ali Shah Saturday called on Mufti Taqi Usmani at Madrassa Darul Uloom and inquired about his health after Friday's terrorist attack.
Talking to Mufti Taqi Usman the chief minister expressed gratitude to Almighty over safety of the prominent religious scholar.
"Thanks to Allah, who saved you and your family," chief minister Shah said while talking to Mufti Usmani.
"The car was sprayed with bullets from all sides," Mufti Usmani told the chief minister about yesterday's attack.
Mufti Usmani also briefed Murad Ali Shah about his religious school. He said 9000 students are getting religious education in his seminary.
"Around 3000 students are staying at hostels of the Madrassa," Usmani told the chief minister.
Sindh Chief Minister Murad Ali Shah, earlier took notice of the incident and sought a report from the Additional IG Karachi. Shah also ordered the immediate arrest of the attackers.
Provincial minister Saeed Ghani called on Mufti Taqi Usmani at the Darul Uloom and inquired about his health.
Maulana Taqi Usmani survied a gun attack, while another religious figure Maulana Amir Shahab targeted in gun attack at Nipa Chowrangi of Karachi on Friday.
At least six unknown assailants on three motorbikes, opened fire at the vehicle on the Nipa flyover.
The attackers fled the scene after firing leaving Amir Shahab and his security guard severely wounded. The security guard later succumbed to his wounds and was pronounced dead.
Additional Inspector General (AIG) Karachi, Amir Sheikh, told media that the assailants attacked the second vehicle which was following Mufti Usmani's car near Nipa roundabout.