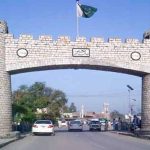 ISLAMABAD: Punjab Chief Minister Sardar Usman Buzdar and IGP Punjab Kaleem Imama on Monday tendered unconditional apologies before the Supreme Court in a suo moto case pertaining the transfer of a district police officer in Pakpattan.
"I offer my unconditional apology. However, I had not put any pressure on police officers for transfer of DPO," Buzdar told the apex court.
"It was my third day in the office after my election as Chief Minister of Punjab. When I came to know about Maneka family incident, I called RPO to CM House and asked him to resolve the matter amicably," he said.
Apart from the chief minister, IG Punjab Kaleem Imam also apologized to the apex court for his role in the controversial transfer.
"This will not happen again. I tender my unconditional apology," Imam told the court.
Chief Justice Saqib Nisar reprimanded the provincial police chief for failing to present a fair report about the incident.
Later, talking to media persons outside the court, Buzdar refused to comment, saying the matter was sub-judice in the court.
"I wanted to appear before the court even in the last hearing," he said, adding Punjab's administration believes in rule of law.
Responding to another question, he said that there was only one chief minister in Punjab.
Earlier, the apex court summoned Punjab Chief Minister Sardar Usman Buzdar and Secretary Establishment after rejecting a report submitted by IGP Kaleem Imam.
Hearing the case on Monday, Chief Justice Saqib Nisar asked the provincial police chief to remove his badge, saying the he had damaged the entire police force to save just one person.
The chief justice also ordered Chief Minister Buzdar, Ahsan Iqbal Jameel and Secretary Establishment to appear before the bench at 2pm today.
Reprimanding IGP, the top judge said that the apex court had reposed its trust in him before asking him to prepare a report about the transfer of DPO Pakpattan Rizwan Gondal.
"You have made the report with a mala fide intent. You will not be able to serve in the police if we recommend so," Justice Nisar commented.
The chief justice than asked under what capacity the chief minister of Punjab had summoned police officials. "The report says all is well. Where is Ahsan Jameel Gujjar? He was asked to appear in the next hearing," the chief justice said.
It is noted here that DPO Pakpattan Rizwan Gondal was transferred after he stopped the vehicle of Khawar Fareed Maneka in Pakpattan.
The apex court had taken suo motto notice of the incident and ordered a probe into political interference in the police.