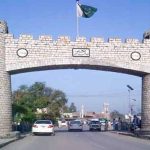 LAHORE: Chief Minister Mian Shahbaz Sharif Tuesday claimed to have arrested accused of raping and murdering 7-year old Zainab.
Addressing a press conference, the chief minister the murderer of Zainab was arrested after hectic efforts of the JIT and other security agencies. He said that Imran, the resident of Kasur, was the serial killer, who had killed seven more children. He also thanked the army chief, ISI chief, IB officials, DG Forensic lab and Punjab cabinet committee, who have played role in resolving the case.
Minister for Law Rana Sanaulah, Haji Amin Ansari, father of Zainab and spokesman for Punjab were also present on this occasion.
He said that 1150 DNA tests were carried out in the case. The DNA sample from accused Imran matched with the sample found from Zainab's body and later on accused confessed during polygraph test.
"The team worked tirelessly day and night to resolve Zainab murder case. I have witnessed such a selfless work by each and everyone. I would like to thank NADRA as well for providing us with data", he said.
The chief minister said that he wished that the accused be hanged in public. However, he added, that he would follow the law and requested the chief justice of Lahore High court that ATC should conduct day and night proceedings of the case for early decision in the case.
"I also request KP government to find the culprit involved in case of Asma. Punjab will provide all the technical support and Forensic lab to help KP government in this regard", he said.
"I appeal to the political parties and leaders to avoid doing politics on such tragic incidents", he said.
"Let's not do politics on dead body. Let's work together to face the challenges", he added.