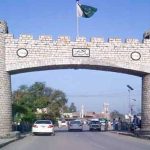 LAHORE: Chief Minister Punjab, Shahbaz Sharif, on Sunday ordered judicial inquiry into an incident of child abuse in Kasur.
The CM has ordered Punjab Interior Minister to formally request Chief Justice Lahore High Court (LHC) to form a commission under District and Sessions Judge to conduct investigation of the incident.
Shahbaz Sharif has assured the victim family that the culprits would be brought to book and would be given an exemplary punishment, expressing his resolve that justice would be served at all cost.
Police say the scandal was result of an old feud by Master Zafar and Sheerazi groups at Hussainwala village in Kasur district.
District Police Official Rai Babar Saeed said that five members of the Sheerazi groups, Haseem Amir, Feezan Majeed, Basharat Cheema, Ali Majeed and Abdul Manan were under arrest while one was on bail.
He accused Master Zafar group of putting pressure on their rivals for the sake of getting land.
To a question, he said that only seven videos were authentic while 50 to 60 clips were downloaded from internet.