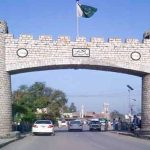 KARACHI: The Chief Minister of Sindh, Murad Ali Shah, Thursday expressed reservations over the results of the digital census, saying that he had been consistently saying from the first day that the population census was not being conducted accurately.
During a press conference at the Chief Minister's House, Murad Ali Shah questioned why the census had been abruptly concluded on May 15 everywhere except in Punjab. He stated that they did not understand why this decision was made and now it was being claimed that Punjab's population had increased.
Murad Ali Shah said that he had spoken with Federal Minister Ahsan Iqbal today and shared his concerns with him. He revealed that complaints regarding the population census had been received from various districts, and in several districts, the counting had not been conducted.
He exclaimed, "What kind of joke is being played with us? How many people do we have in our population, and why are they being undercounted? If the population census is to be conducted, then let it be conducted in the entire Pakistan, and we want equality, not favors."
The Chief Minister of Sindh emphasized the importance of conducting an accurate count, stating that they would not be satisfied with the results of the population census until it was carried out correctly. He pointed out that the population of Sindh had been underestimated, and they had been counted less than 7 million.