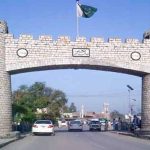 RAWALPINDI: Chief Minister of Sindh (CM) Murad Ali Shah on Thursday has appeared before National Accountability Bureau (NAB) Rawalpindi in fake bank accounts and solar light cases.
According to details, combined investigation team of the anti-watchdog is interrogating the CM, who is accused of issuing funds for contracts despite objections.
NAB told that seven suspects in solar light case have accepted plea bargain, one accused has become approver while prime suspect is on bail.
Talking to media after NAB appearance, Sindh CM said that he has given answers of all the queries however, the questionnaire has not been handed over to him by the bureau.
He said all out efforts are being made to curb the spread of coronavirus.