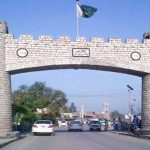 KARACHI: Sindh Chief Minister Murad Ali Shah has ordered the closure of wedding halls, shrines and festivals across the province to deal with the coronavirus outbreak.
The chief minister issued these orders while chairing a meeting of the taskforce formed to monitor the coronavirus situation in the province.
Madressahs have also been told to halt educational activities.
The Sindh Disaster Management Authority has also been directed to start recruiting volunteers.
The provincial chief secretary has been directed to issue notifications in this regard.
Moreover, Shah has also instructed Commissioner Sukkur to conduct the tests of pilgrims that will be reaching the city. He had also directed the officials to keep him updated minute by minute so decisions can be taken at once.
The chief minister also issued directions to the chief secretary to shut down the National Institute Management (NIM) and has directed his ministers to avoid attending events.
"By God's mercy, the situation is still under control. But we need to be prepared for every eventuality," he said.
The number of confirmed coronavirus cases in Pakistan rose to 28 on Friday night, after seven more cases were reported. The cases were reported at the Taftan border which connects, Pakistan and Iran.
Karachi has been the worst affected city so far, with 14 of the total confirmed cases. Of the remaining, five cases have been reported in Gilgit-Baltistan and one case has been reported each in Hyderabad and Quetta.
The epicentre of the outbreak has now shifted to Europe, which is recording a rapid rise in new cases every day.