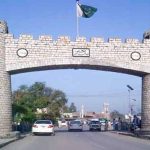 TEHRAN: Iranian leadership acknowledged Pakistan's sacrifices and achievements in the war against terror and its contributions towards regional peace.
The acknowledgement was expressed during meetings of Chief of Army Staff General Qamar Javed Bajwa with Iranian military and civilian leadership in Tehran.
According to ISPR, Army Chief during the meetings discussed issues related to geo-strategic environment, defence and security and economic cooperation at bilateral as well as at the regional level.
General Bajwa met Iranian Chief of General Staff Major General Muhammad Bagheri at General Staff HQ, where he also laid wreath at Martyrs Monument.
The COAS also held meetings with Iranian Foreign Minister, Mohammad Javad Zarif at Ministry of Foreign Affairs and Iranian President Hassan Rouhani at Presidential Palace.
Iranian leadership appreciated the important and positive role that Pakistan is playing for regional peace and stability.
Afghan situation, growing threat of Islamic State in the region and Pak-Iran border security also came under discussion.
Army Chief termed Pak-Iran border as border of 'Peace and Friendship' and emphasized its better security management so as to deny its exploitation by terrorists being a common enemy.
He said Pakistan and Iran are two brotherly neighbours with shared history, culture and religion.
Both the sides agreed to stay engaged for enhanced bilateral cooperation besides working jointly to assist in bringing positive developments in other issues concerning the region.