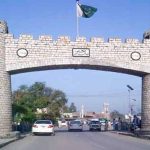 TEHRAN: Army Chief General Qamar Javed Bajwa on Tuesday met Secretary of Iran's Supreme National Security Council Admiral Ali Shamkhani and Army Chief Major General Abdul Rahim Mousavi.
Director General ISPR Major General Asif Ghafoor in atweet siad matters pertaining to regional security environment and bilateral defence cooperation were discussed in the meeting.
Army chief General Qamar Javed Bajwa on Monday reached Tehran as part of Pakistan's continuing efforts aimed at defusing tensions between Iran and Saudi Arabia.
The Army Chief met Chief of Staff Iranian Armed Forces Major General Mohammad Hossein.
They discussed regional security environment, efforts for regional peace and stability and Pak-Iran Border Security Mechanism.
There have been a flurry of high-level exchanges between the two countries in recent months, with focus on brokering some kind of a deal between Tehran and Riyadh.