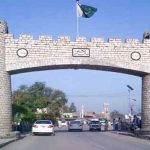 ISLAMABAD: Interior Minister Ahsan Iqbal has said terrorism is a global challenge and collaboration is the way forward to defeat this menace.
Ahsan Iqbal was addressing the closing session of three day International Counter Terrorism Forum, organized by National Court-Terrorism Authority, in Islamabad today.
He said that terrorism cannot be defeated by blame games and without defusing the conflicts. He stressed the need for systematic approach to permanently address the issue.
He said conflict in Afghanistan and the growing conflict in the Occupied Kashmir posses serious challenge to diffuse extremism from the region. The Interior Minister said India is fomenting conflicts in the region and the international community will have to intervene to play its due role in resolving the conflicts.