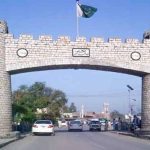 PESHAWAR: The National Accountability Bureau (NAB) in Khyber Pakhtunkhwa has formed a four-member committee for investigating allegations of corruption in Billion Tree Tsunami Project lunched by the government of Pakistan Tehreek-e-Insaf (PTI).
According to media reports, the committee is comprised of a legal consultant and two investigation officers, responsible for obtaining all the record of the project from Forest Department and probing the allegations.
The committee headed by a grade-19 officer has initiated consultation to begin probe against former chief secretary and two additional chief secretaries.
Khyber Pakhtunkhwa government is claiming to have planted more than one billion saplings in the province.
All the opposition parties had accused the mega project of irregularities and corruption, after which NAB chairman Javed Iqbal had directed to probe the allegations.