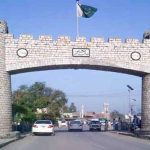 PESHAWAR: A joint security committee has been formed to chalk out plan for security arrangements for the protection of educational institutes in Khyber Pakhtunkhwa.
The committee will include members of the police and provincial education department.
Khyber Pakhtunkhwa Inspector General Police Salahuddin Mehsud has said the committee would prepare a report on the security of educational institutes in the province.
The report would be presented to the central police office in one week, following which a security plan would be formulated.
On the morning of December 1, terrorists attacked the student hostel inside the Directorate of Agriculture Extension on University Road in Peshawar. Nine people were martyred and around 30 injured in the incident. Nine martyred, 30 injured in attack on Agriculture Directorate in Peshawar
The security forces later managed to kill all the terrorists after a gunfight which lasted over an hour.