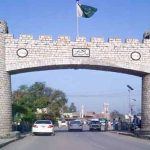 LAHORE: The committee formed to probe the news story leak regarding national security has been challenged in Lahore High Court (LHC).
The federal government on Monday had constituted a committee headed by retired LHC judge Ahmed Raza Khan for investigation into the controversial news regarding a high-level national security meeting.
The commission will have one representative from each of Inter Services Intelligence (ISI), Intelligence Bureau (IB) and Military Intelligence.
The petitions filed by Pakistan Awami Tehreek's (PAT) Ishtiaq Chaudhry and Barrister Iqbal Jaffri claimed that the retired judge who heads the committee, has close ties with Sharif family and has served as chairman of the Public Health Commission as well.
"His appointment as the head of the investigation committee is a violation of Article 5 of the constitution," the petitions stated.
The petitioners also claimed that other members of the committee are partial as well. It was also mentioned in petitions that all members of the committee have been powers equal to the chairman.
"They have also been given powers to veto any action due to which the committee will lose its efficacy and transparency," the petitioners stated.
The petitioners pleaded the court to declare the committee void and form a new body under the serving judges.