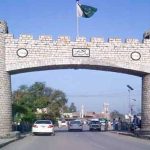 PESHAWAR: Khyber Pakhtunkhwa Chief Minister Mahmood Khan has said that over thirteen hundred billion rupees will be spent in the tribal districts under ten-year developmental plan.
Addressing a tribal Jirga in Peshawar on Tuesday, he said committees of elected representatives have already been constituted to identify projects in the tribal districts.
The Chief Minister said one billion rupees will be given to youth in every tribal district to start their own businesses.