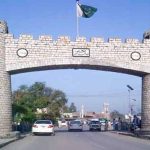 MALAKAND: Complete shutter down strike is being observed across Malakand Division against the extension of tax system to the division and changing the status of Provincially Administered Tribal Areas (PATA).
People of seven districts of Malakand Division, on call of business community, are protesting against amendments in the status of PATA.
The protesters said that Malakand was enjoying a special constitutional status under which all the districts of the Division were tax free.
It was agreed upon at the time the state of Swat was incorporated into Pakistan that the division would remain a tax free zone for hundred years, they added.
However, the protesters lamented that the coalition government of Pakistan Tehreek-e-Insaf (PTI) and Jamat-e-Islami (JI) in Khyber Pakhtunkhwa has paved way for the imposition of tax in Malakand Division.
Some of the protesters said that PTI and JI would pay for this in the upcoming general elections anticipating that the business community would call upon the people not to vote the two parties.