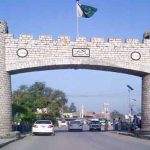 DERA ISMAIL KHAN: Governor Khyber Pakhtunkhwa Iqbal Zafar Jhagra said Wednesday prudent policies were being implemented in education and health sector to uplift living standard of tribal people.
Speaking at an inauguration ceremony of 40-bed hospital here at Darazinda area, the governor said as part of such efforts, all on-going development projects in the tribal belt would be timely completed and strict monitoring-regime had been put in place to ensure passing on its benefits at grass-roots level.
He said that the hospital which was being constructed at a cost of Rs 404.6 million would have a number of medical facilities including surgical, X-rays, Ultrasound and ECG and people of the area would not need to travel other cities on medical grounds, he added.
He said that tribal people were patriotic nation who rendered supreme sacrifices for sake of peace in the country and in this regard they vehemently supported the armed forces that conducted successful operations against menace of terrorism and extremism.
Similarly, the tribal people also cooperated as far as process of rehabilitation and repatriation of Temporarily Displaced Persons (TDP) was concerned, the governor added.
He urged the tribal people to continue their cooperation towards the government and security forces with same strong commitment and patriotism to purge the area from scourge of extremism and terrorism and ensure durable peace which was pre-requisite for a socio-economic development, the governor added.
Recounting the development initiatives of the government, the KP governor said the billion-dollar mega project of China Pakistan Economic Corridor (CPEC) would help address sense of deprivation of the people of backward areas of the country.
He said the completion of CPEC would bolster trade and business activities and generate employment opportunities for youth who were regarded as future leader of the nation.
He urged tribal people to provide education to their children in order to gear them up for successfully facing the contemporary and future challenges and to earn a good name for their families and country.
The governor also planted a tree as part of tree plantation campaign which played crucial role in ensuring clean and healthy environment for citizen, he added.
IG FC Major General Abdul Latif speaking on the occasion appreciated the tribesmen for rendering matchless sacrifices for the sake of peace in the country.
He added all out efforts would be made to provide best health services to the patients who visited the hospital.
Among other officials, Additional Secretary FATA and Commissioner Dera Ismail Khan was present on the occasion.