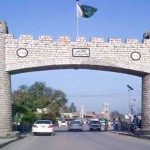 PESHAWAR: Another patient of Congo virus Saturday died in a Peshawar local hospital, while AIDS  also claimed life of a transgender in provincial capital, Khyber News reported.
According to Khyber News correspondent, 45-year-old Sadiqur Rahman was admitted in Hayatabad Medical Complex on September 21 for Congo virus treatment. He was being treated in special ward.
Doctors confirmed Congo virus disease in Sadiqur Rahman. The hospital administration has confirmed the death of Sadiqur Rehman. Eight patients are being treated in Peshawar hospital. Two of the patients belong to Afghanistan, one Khyber agency, one Bajaur Agency and three hail from Bannu.
Three patients have so far died in Peshawar due to Congo virus in this year.
Meanwhile, a transgender died of AIDs at Hayatabad Medical Complex on Saturday. Transgender Dewani was admitted for treatment of HIV AIDs few days ago. However, Dewani died at hospital today. The dead body of transgender was handed over to heirs, who was laid to rest today.