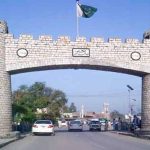 HARIPUR: PML-N leader Maryam Nawaz on Saturday said that the people of Pakistan have always voted heavily for Pakistan Muslim League-Nawaz (PML-N) in every elections.
Addressing a public gathering in Haripur, Maryam Nawaz said that battalion of conspirers faced humiliating defeat during Mall Road protest.
Nation should promise to give respect to elected prime minister, she urged.
Pointing at opponents, PML-N leader said that when Nawaz Sharif was constructing electricity houses, the opposition parties were busy in abusing incumbent government on containers.
Opposition has failed to upset the government despite holding sit-ins and leveling rigging allegations, she continued.
Maryam Nawaz further claimed to win elections in 2018, adding that when opposition faces rout, it criticizes parliament.