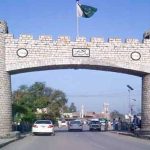 LONDON: Expressing concern over looming water crisis in Pakistan, Chief Justice, Mian Saqib Nisar has said the country is in need to have several dams.
Speaking at a gathering in London, he recalled that the last dam was built in Pakistan some 40 years ago.
Justice Nisar said Rs 40 billion were spent for 'Saaf Paani scheme', but none of the citizens could be provided with clean drinking water.
'It's now high time to render sacrifices to save the next generation," said the chief justice. The top judge said Rs 1600 billion were required for construction of dams, hence "we need to explore more options apart from fund-raising."
He said Mancharr Lake, which was a main source of water supply to Karachi , had now become contaminated. "Similarly, all waste is being dumped in River Ravi in Lahore."
"Ground water was around 40-feet deep in the past, but now it has reached 400-feet in Lahore and 1500-feet in Quetta, which is alarming," said the CJP. He added that construction of news dams was now inevitable in Pakistan.
He regretted that governments in the last 40 years kept ignoring the alarming issue of water crisis and didn't pay heed to need of building dams.
Later speaking to media after the event, the CJP cited Water and Power Development Authority as saying that international firms were looking to provide funds for dams in Pakistan.
He underlined that a proper mechanism would be developed for usage of dam fund money, besides a website would be created to keep public informed about spending of their donations.
To a question, he said no leniency would be given to anyone during the accountability process.
At a gathering in London on Nov 26, CJP had said the dam fund was property of the public, "and I will make sure to hand it over to secure hands before I leave."
"If people allow, we can re-impose withholding tax on prepaid mobile cards and the amount generated through collection would be deposited to the dam fund," he suggested.