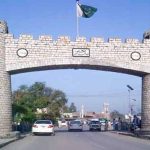 ISLAMABAD: Construction work on 35-kilometre Kalam-Bahrain Road has been launcehd at the cost of Rs 11 billion that will also include 23 bridges.
According to details, Prime Minister's Adviser Amir Muqam inaugurated the project, Swat district nazim and National Highway Authority (NHA) officials were also present at the inauguration ceremony in Mankial area, a private news channel reported.
Amir Muqam said on the occasion that this road is a gift from Prime Minister Nawaz Sharif for the people of Swat.
He said the construction of the road will help in promotion of tourism in the area.
Kalam Road was severely damaged in the 2011 floods due to which the commuters were facing difficulties. The poor condition of the road was not only troubling the commuters, but it also negatively impacting tourism in the area.