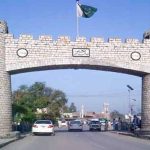 KARACHI: Prime Minister Shahid Khaqan Abbasi said on Friday that country's progress was dependent on development in Karachi.
"The Pakistan Muslim League-Nawaz led federal government is putting its best efforts for the betterment of the metropolis," the premier said in his address at the inaugural ceremony of National Incubation Centre at the NED University.
The premier said Karachi and the rest of the country's peace were interlinked and the current federal government had revived Karachi's glory.
"Peace has established in the city from Karachi Operation," he said.
PM Abbasi said the continuity of democratic system was necessary for the national progress, adding that the federal government was finding it difficult to make decisions in the current political climate.
"Despite difficulties government completed many developmental projects," the premier said. "Only a democratic government is capable to address challenges."
PM Abbasi expressed hope that the incoming democratic governments would resolve the issues of people.
He said that the government established a number of power projects to address the power crisis, and was implementing tax reforms in the country.
"Government's business-friendly policies have given confidence to the investors," he said. The prime minister gave the credit for the initiative to Finance Minister Miftah Ismail.