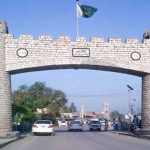 A local court of Islamabad Tuesday extended the physical remand of Pakistan Tehreek-e-Insaaf (PTI) Senator Azam Khan Swati by another four days in Controversial tweets case .
Senior Civil Judge Muhammad Bashir heard the case against Azam Swati pertaining to insulting institutions through tweets.
During the proceeding, Swati's counsel Babar Awan argued that there were threats to his client's life and pleaded exemption from proceedings.
In light of this, the court allowed Azam Swati's virtual appearance in proceedings.
However, the court extended Senator's physical remand till December 3.
It is pertinent to mention here that PTI Senator Azam Swati was taken into custody from his farmhouse located in Chak Shahzad by FIA for the second time, hours after his party staged a power-show in Rawalpindi on November 26.
Earlier, he was arrested by FIA on October 13 from his house for a controversial tweet against military leadership.
Background
The PTI Senator Azam Swati was previously arrested by the FIA on October 13 for a controversial tweet against the armed forces. Since being released on bail, the senator has maintained that he was allegedly tortured in custody and has demanded the removal of two military officials, one of whom he used foul language against on Twitter.
The FIA has taken him into custody again on last Sunday. The FIA has registered a first information report on the complaint of the state through Islamabad Cyber Crime Reporting Centre Technical Assistant Aneesur Rehman. He was previously arrested by the FIA in October for a controversial tweet thought to be against the armed forces.
PERMA bans Azam Swati speeches and press conferences 
The Pakistan Electronic Media Regulatory Authority has banned the broadcast of Pakistan Tehreek-e-Insaf Senator Azam Swati's live speeches and press conferences.
According to the PEMRA declaration, the press conference, media coverage, statement, or tickers of Azam Khan Swati will also be banned.
The PEMRA has also restrained TV channels from inviting Senator Azam Khan Swati to the talk shows.