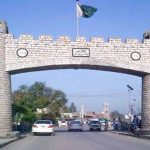 ISLAMABAD: Convicted in Tayyaba torture case, the suspended judge and his wife have challenged their sentence in Islamabad High Court (IHC) on Friday.
The accused, Additional District and Sessions Judge Raja Khurram Ali Khan and his wife Maheen Zafar, in their petition have pleaded the IHC to form a divisional bench to hear their appeal.
On April 17, the IHC announced its verdict in the Tayyaba torture case after over a year-long period of proceedings.
The two were sentenced to one year imprisonment and were also fined Rs. 50,000 each for employing an underage child and torturing her.
Following the verdict, the accused filed a bail plea which was approved by the same bench.
The court ruled that the bail will be valid for seven days in which period the sentencing can be challenged.