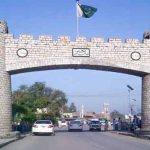 PESHAWAR: Five terrorists were killed and a policeman was also martyred in an operation in Hayatabad area of Peshawar on Monday night.
Khyber Pakhtunkhwa Information Minister Shaukat Yousafzai said police conducted a raid on a house in Hayatabad Phase-7 after they received information that about six or seven terrorists were present there. When the police team reached there, the terrorists in the house opened fire on them. He said one policeman was martyred in the exchange of fire, while five terrorists were also killed. Sources said two explosions were also heard during the operation led by Capital City Police Officer (CCPO) Qazi Jameelur Rehman.
Shaukat Yousafzai said three policemen also sustained injuries during the operation who have been shifted to hospital. He said the martyred policeman belongs to Mashukhel, Badhber. The policemen encircled the house and commandos entered the house during the operation which continued till late night and was halted for some time as there was information that the terrorists possess suicide jackets. He said the lower portion of the house has been cleared while clearance of the upper portion is continuing. He said the police commandos are progressing well in the operation and it is successful in eliminating terrorists.
The minister said the terrorists in the house were planning attacks on additional inspector general and a sessions judge. He said the military commandos are also assisting the policemen in the operation. He said there is still some resistance from the upper floor and the security personnel are tackling them.
The corps commander earlier visited the site of the operation and appreciated the professionalism and bravery of the security personnel.
The corps commander asked the forces participating in the operation that routine lives of the residents of the neighbourhood should not be disrupted due to the operation. He further instructed that assistance from the Special Services Group may be sought if the need arises.
Funeral prayer for the martyred policeman Qamar Alam was offered at the Malik Saad Shaheed Police Lines. KP Chief Minister Mehmood Khan, Corps Commander Peshawar Lieutenant General Shaheen Mazhar Mehmood and KP police chief among others attended the funeral.