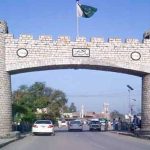 ISLAMABAD: Foreign Minister Shah Mehmoud Qureshi has said that Pakistan is a sovereign country and it takes decisions in the national interest without succumbing to any pressure.
He was talking to the Speaker National Assembly Asad Qaiser in Islamabad on Friday.
The foreign minister pointed out that cordial relations with the neighboring countries, peaceful resolution of Kashmir dispute and projecting true image of Pakistan at the international level are the cornerstone of our foreign policy. The speaker in his remarks hailed the foreign minister in a very short span of time has effectively presented Pakistan's stance at the international level.
The speaker also welcomed the six billion dollars Saudi relief package saying it will have positve impact on the economy.