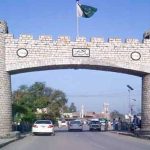 ISLAMABAD: Prime Minister's Corona Relief Tiger Force will be operational all across the country here on Monday (today).
To give guidelines regarding Corona Relief Tiger Force, Prime Minister Imran Khan has summoned a meeting of the assembly members.
The meeting will take place via video link at 12 PM to review preparations to operationalize Tiger Force in the country.
Special Adviser to the Prime Minister on Youth Affairs Usman Dar will also attend the meeting via video link.
Earlier on Sunday, Usman Dar called on PM Imran to discuss matters related to the Force.
While briefing the premier, Usman Dar told that the government of Sindh does not cooperate on the issue of Tiger Force.
Usman Dar said the tiger force will ensure that standard operating procedures (SOPs) are followed during congregational prayers in mosques besides enforcing social distancing regulations at utility stores to check to the crowd.
Last week, Punjab Chief Minister (CM) Usman Buzdar had launched the Corona Relief Force in Sialkot.
Moreover, Special Assistant Usman Dar has said one million youth have so far registered with the Corona Relief Tiger Force.
He said these included six hundred and twenty-six thousand from Punjab, one hundred and forty-six thousand from Sindh and one hundred and thirty-six thousand from Khyber Pakhtunkhwa (KP).
The Special Assistant said this force comprises of teachers, health workers, engineers, lawyers, doctors, and people belonging to other segments of the society.